"They came out of nowhere, now they're making millions… They're an overnight success!"
I'm sure you've heard this before or at the very least something like it.
Publications love to bombard us with stories of entrepreneurs who find instant success. The problem is "instant success" simply doesn't happen.
Sure the stories get clicks, sell magazines and excite young entrepreneurs into thinking they can fast track their journey and become the next Jobs or Musk.
But if you're setting out to become an "overnight success" you're setting yourself up for failure.
The hard truth is that:
"Behind every 'overnight success' is years of commitment, hard work sleepless nights and a touch of good luck."
As part of my work at Altar, I get to see first-hand the struggle that entrepreneurs face getting a startup off the ground.
Success is never guaranteed. Even for entrepreneurs with years of industry experience, a top-notch solution to a very real problem, wrapped in a product with a beautiful UX/UI.
In this article, I'll share three stories from successful entrepreneurs who I sat down with as part of our content series The Startup Journey. They're prime examples that startup life isn't going to bed poor and waking up rich – no matter how good you are.
The Stories Behind the "Overnight Success"
The following businesses, and the entrepreneurs behind them, have all reached incredible success in their chosen industries – whether that takes shape in hundreds of millions in funding, a successful exit or in some cases both.
To the outside eye, it's very easy to mistake them as an "overnight success". But as I learned when sitting down with these founders, that could not be further from the truth.
Let's get started with Yaron Samid.
Do you have a brilliant idea that you want to bring to life?
From the product and business reasoning to streamlining your MVP to the most important features, our team of product experts and ex-startup founders can help you bring your vision to life.
Yaron Samid – BillGuard
Yaron Samid is the founder behind multimillion-dollar fintech startup, BillGuard.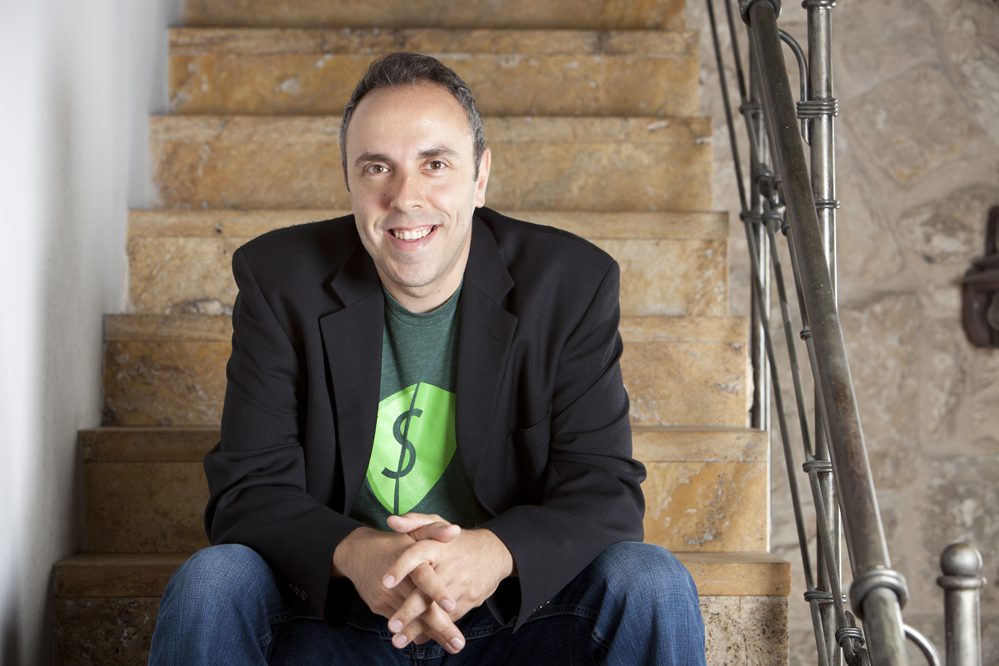 His startup seemingly shot to success, with the personal finance app seeing rapid adoption when it launched.
The first iteration of BillGuard however, wasn't a personal finance app, but a "set & forget" security app designed to identify fraudulent credit card transactions.
But people weren't excited about that product, so adoption was low. They had to pivot the business several times to achieve success, as Yaron recalled recently when sharing his story with me.
"People had the intent, but when we launched, suddenly nobody stopped what they were doing to sign-up and use it
Taking action is not free. People have to make the decision to go get your product. That requires a driving force.
Like if you have a headache, you will stop what you're doing and go and buy some medicine. Unfortunately, we did not have that.
Nobody is excited about their security products.
So we pivoted to a B2B model. We tried to sell the technology to the banks.
However, the sales cycle for banks is very very long. It's painful. The kind of pain I wouldn't wish on anybody.
Simply, we were not set up to just sit there and wait for the banks to deploy.
So, after two years of investing in a B2B marketing and sales team, with pilots in major banks, we made one of the hardest decisions we had to make. To pivot back to a consumer app.
This meant letting go of some amazing talent we had brought in to sell to banks. They just weren't the right fit for a consumer business model. It was heartbreaking.
We completely redesigned the product and built a personal finance app as opposed to a "set & forget" security app.
We changed the discussion from security to saving money: 'Do you want to pay full price for that coffee? Or do you want to get a notification on your phone that gives you a 25% promo code as you walk into the coffee shop?".
Everybody wants that product!
If you see someone standing in front of you in line getting 25% off their coffee the first thing you do is say: "Hey, what's that?" and they say: "It's my BillGuard savings alert. It shows me that there is a coupon here I can use and automatically downloads it to my phone."
Boom! Everybody standing in line is suddenly downloading the app for the coffee they are about to buy.
That drives massive organic adoption and growth. When we did this and made other UX tweaks to the mobile app, it brought down our CPA to less than $2 per newly registered user."
What could easily be seen as an overnight success actually took years of pivoting (and overhauling the majority of the team) to achieve.
Related: 9 Crucial Lessons I Learned from Interviewing Successful Entrepreneurs
Ali Halabi – Volt Lines
Ali Halabi is the brain behind Volt Lines – a subscription-based transportation service aimed at corporations.
Volt Lines has rapidly become the leading corporate transport service in Turkey – and to the outside eye, it's easy to think that Volt Lines went from $0 to $7.5M in funding in a heartbeat.
As you can probably guess, that couldn't be further from the truth.
Volt Lines may have been received by the market with open arms, but Ali's journey started four years before with his original idea "Volt" – a P2P carpooling service.
He told me the full story in a recent chat:
"I quit my corporate job in 2013. Quite an irrational decision from someone who had only lived in the city a year – who still didn't speak the language.
I set out to build Volt, an on-demand carpooling service. It was my first startup.
We were essentially connecting drivers and passengers going in the same direction in inner-city Istanbul.
The carpooling model failed due to product-market fit, so I pulled the plug on it in 2017.
Which left me trying to figure out what to do next.
I ended up jumping from one end of the spectrum to the other. Having focused on C2C with my first startup, my second focused on B2B.
I created a completely new company that focused on corporate transportation.
That's how Volt Lines was born. It's like the Netflix of Transportation, the Spotify of buses.
I started selling Volt Lines six months before we actually incorporated the company. Almost a year before we signed our first customer."
Again, it's clear to see that what may look like an overnight success actually boils down to hard work, trying (and failing), perseverance and listening to your market.
Garrett Gafke – IdentityMind
Garrett Gafke brought the idea of digital identity to Silicon Valley with his startup IdentityMind.
A startup that, before being successfully acquired last year, solidified its place as an industry leader and raised over $21M in funding.
But this success certainly didn't happen overnight for Garrett. He told me recently that when he first had the idea, he and his team struggled to portrait its value to the market:
"We would talk about it with people and they would look at us blank-faced.
I'll give you an example of how far this goes back. I was meeting with people like Jeff Bezos, who was getting the bookstore (Amazon) going at the time.
I was speaking to Peter Thiel & Elon Musk, who were at PayPal with another friend of ours Bill Harris. They were just getting that going with Max Levchin.
Marc Andreessen was over at Netscape. I was over at Verifone.
No one had ever discussed what Digital Identity was. We had to take that time to educate the market.
We were pioneering the digital identity market. This meant lots of conversations about things that were unknown and confusing to people."
After being told no countless times, Garrett and his team went into stealth mode for four years.
What got him through it? His mindset and the people around him:
"Of course my co-founders and I saw the lack of demand. Sure, we were told "no" a million times – like a lot of entrepreneurs.
After all, failure is the primary denominator in the entrepreneurial process.
What it comes down to is your own drive, values, and commitment.
Grit and tuning out the naysayers is critical. You must be resilient!
Moreover, you've got to "scrap" as I call it.
The best CEOs and entrepreneurs I know are what I call very scrappy people.
And what I mean by that is we work hard.
We work incredibly hard and give everything, every piece of our being to these journeys – even if they end unsuccessfully.
More than that, scrappy people are also very resourceful. You figure out a way to work for very little money.
The other major factor is, you and your co-founders make a commitment to each other.
Do not underestimate your partners in any journey, business or personal.
When times were tough, often what kept us going was our commitment to each other as a founding team."
Garrett's story is further proof that success comes from years of hard work and the grit to get through the toughest hurdles.
Related: 7 Key Product Lessons I Learned Interviewing Successful Entrepreneurs
Key Takeaways
These are just three examples of what it takes to build a successful company.
I could show you many more, but instead, I want to leave you with some actionable advice that I've picked up along the way.
First, foremost and somewhat unsurprisingly, don't expect to become an overnight success.
Instead, commit to the problem you're trying to solve for your users.
Then surround yourself with the right people to build that solution and get it into the hands of your users as quickly as possible.
Listen to those users, and iterate that product to make it the best possible solution on the market.
Critically, while you're doing all of these things, know that there will be hurdles and there will be times where it feels like your startup is on death's door.
The best way to make your way back from those moments is, firstly, by not being afraid to ask for help. When I sat down with another entrepreneur, Wade Eyerly, he summed it up perfectly:
"We've all needed so much help to get to where we are, that we understand and most of us are still calling people looking for help!
So when you call an entrepreneur and say:
"Hey, can I get 20 minutes? I want to bounce an idea off you."
The answer is: "Yeah. Okay."
Every single time."
Pair that ability to ask for help with an entrepreneurial mindset of never giving up. Think about why you started this journey. Look at the team around you who have all committed to you and your startup.
Always remember that perseverance is a key trait to successful entrepreneurship. As Garret told me:
"Whether or not your startup makes it depends on your ability to go past where most people would throw in the towel. Most entrepreneurs I know never throw in the towel."
That's it. Now it's time to go out there and create your own story.
Rui is a partner and CMO at Altar.io. He's been dedicated to B2B marketing for his entire professional career. After spending eight years honing his craft at Portugal's first B2B marketing agency, he joined Altar, where he leads both the marketing and sales department under the same umbrella.
His current focus is on business strategy, getting to know Altar's customers and occasional early-stage strategy discussions with the entrepreneurs we work with.