Since launching in 2015 we've had one mandate in mind at Altar:
To help entrepreneurs build successful startups.
And because our founding team have built over 10 startups between them, they decided the best way to do that was to bring a lean, user-centric approach to product and software development.
But it takes more than a great product to build a successful startup.
We know it. We've been there.
So we've always tried to be more than a service provider. To be somewhat of "an extended team of co-founders", providing advice and guidance based on our own experience.
So when I joined the team a year and a half ago to lead the marketing department, the combination of our founder's story and what our clients were saying…
…made one thing absolutely clear to me: this had to be at the core of our strategy.
Since then, we've been focused on providing valuable resources for entrepreneurs on the main aspects of launching a startup.
As part of that, we've created a series of interviews titled The Startup Journey, in which we've sat down with several successful entrepreneurs who agreed to take some time from their busy agendas to share their journeys and experience.
Our main goal was to bring their lessons and advice to help entrepreneurs reduce their odds of failure, but I have to admit I was also eager to learn from these amazing people.
And if you speak with enough people who've turned their ideas to unicorns, trust me, you'll learn a thing or two.
So today I wanted to share some of the lessons I kept with me from the last year of conversations:
1. Don't Try to Find Ideas, Try to Solve Problems
Successful Entrepreneurs don't look for the next big idea. Instead, they look around them for problems that need solving.
Take Sean Yu's story as an example. He was working for an NGO when the idea for his startup first popped into his head.
The NGO he worked for focuses on economic development through supporting entrepreneurs and their startups.
It was while working with those entrepreneurs that Sean started noticing a pattern. While they all had a developed business vision and story behind their startups, the finance side was getting left behind:
"All of these successful entrepreneurs didn't have a clue about the finance side. Which is like driving a car with no idea how fast you're going or how much gas is left in the tank.
You're running the startup, you're in the right market, right sector, you're growing and that's great. But you still have to do all the monitoring work that allows you to actually run the business.
So I saw the problem first-hand. And it wasn't that they didn't want to do it. They didn't have the tools to do it."
So he set out to build the solution. Fast forward to today and his startup, Paraşüt has been acquired by the largest private equity firm in Turkey. And Sean is now heading up a 100 person team.
Another example of why you should solve problems instead of looking for ideas comes from Christian Nothacker's Story.
It was a gap in the market that inspired him to launch his fintech startup, PrestaCap.
While working as an early employee of another fintech, mobile payments company SumUp, he noticed that small business owners were facing major inefficiencies when it came to the financing process offered by traditional banks:
"We heard stories of customers queuing at their bank with a paper invoice, handing it over at the counter and waiting five days for a reply."
After researching, Christian found there were no other players in the market. So he built a team and set out to digitalise these processes for business owners
Key Takeaway
Christian and Sean's stories are not unique. In fact, nearly all of the successful entrepreneurs I've sat down with have started their business this way.
So don't waste time looking for the next Facebook or Amazon. Instead, look for the problems people around you face and try to solve those problems in a better way.
Related: How to Build a Successful Minimum Viable Product (MVP) in 3 Steps
2. Genuine Curiosity is a Superpower
As I've already mentioned, looking for problems to solve is a key factor for a successful entrepreneur. But to spot those problems, you need to have "genuine curiosity".
It was during my conversation with Wade that this key lesson came up.
Wade not only built an airline that invented subscription-based flying, his new company is now tackling the student loan crisis in the U.S.
He explained how taking a genuine interest in both things and people can lead you to do anything you want to do:
"Genuine curiosity is a superpower. It's just rocket fuel for entrepreneurs.
I could sell plastic injection-moulded widgets with the same level of interest as subscription flying or degree insurance.
Everything is interesting to me.
And I like people. I like understanding where they're from and what they do and what interests them and what their problems are.
And it means you can really dive into anything."
Key Takeaway
If the best way to start a business is to solve a problem, you first need to identify those problems.
Genuine curiosity and interest will go a long way to helping you truly see the problems people around you face.
3. Don't Expect Investors to Back a Napkin Idea
It's common knowledge that securing investors is one of the bigger challenges entrepreneurs face.
And the fact is, you need traction before they will open their wallets.
Paul O'Brien really hit the nail on the head in our conversation:
"The biggest mistake I see entrepreneurs make is they try to raise capital to start. Here's the bottom line: no startup in the history of the world can raise money just to get going. Unless you're Elon Musk, unless you're Mark Zuckerberg, no one is going to give anybody money just to start something.
Startup finance has to start with:
Period."
His advice is clear, don't ask investors for money with a napkin idea.
That being said, you should be networking with investors as soon as possible.
Something Yaron Samid talked about when I spoke to him about startup investors: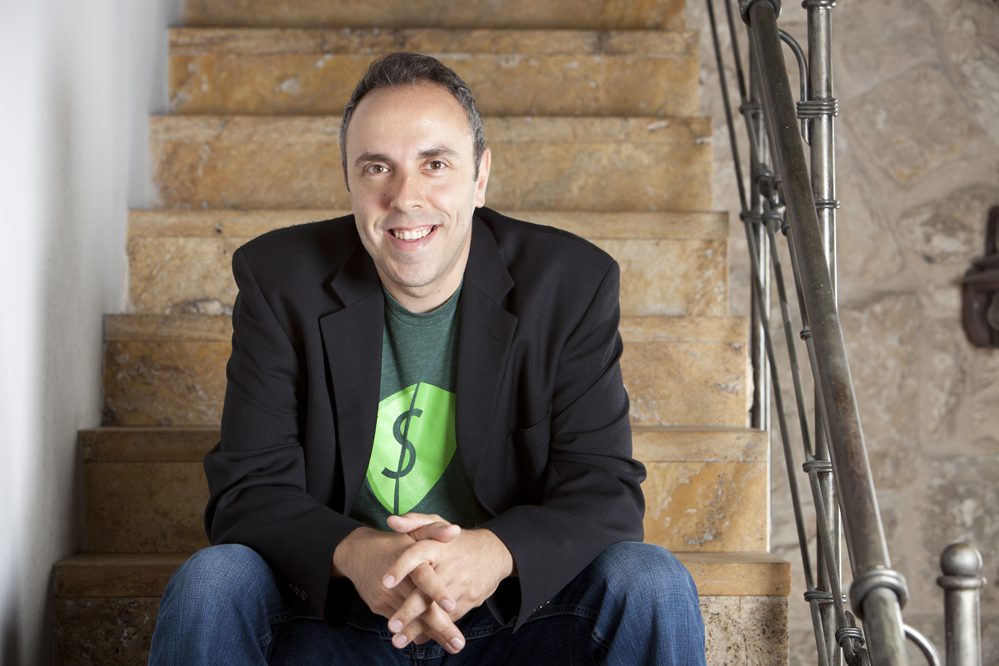 "My main advice to first-time entrepreneurs is to create a network with investors early. Reach out and build relationships with investors before you ask them for money.
Tell them what you are thinking of building. Ask them if, based on your KPI goals, they would be interested in investing in the future. Find out what KPIs they would like to see based on your vision.
And they will tell you. They've seen hundreds of companies and thousands of pitches. They can see the signs of a company that is going to have compelling growth.
Collect this information from a few investors. Then go out and execute those KPIs by scraping together some money from friends and family, your savings or your debt.
If you succeed you can go back to the investor with facts and figures rather than just a story. Then you can start talking about a proper early-stage venture round.
That puts them in a position where they have to take you seriously. Second, it makes you look exactly like the kind of founder they want to back. It makes you look credible and your business predictable.
When you tell them you are going to do A, B, C they may doubt you. But, six months later when you have proof you did "A, B, C" you tick a box in their brain. You show them you're a responsible, credible entrepreneur they can trust who has a good grasp on the growth levers of your business."
Key Takeaway
Don't try to secure investment from day one. First, build a relationship with investors.
Tell them your idea, and your plan to execute it. Get their advice and ask them what they need to see to be interested in investing.
Then, get out there and do it!
Do you have a brilliant idea that you want to bring to life?
From the product and business reasoning to streamlining your MVP to the most important features, our team of product experts and ex-startup founders can help you bring your vision to life.
4. Share Your Idea with as Many People as Possible
Throughout my conversations, entrepreneurs have shared with me time and time again the importance of sharing your business idea.
Something Giacomo De Lorenzo did when starting out his fintech company.
Take this example he shared in our conversation:
"Don't underestimate the importance of sharing your idea and being able to ask for people's help.
I wouldn't have imagined I could have so much help from the people I talked to at the early stages of Moneymour, their advice had a hugely beneficial impact.
Let me give you an example:
Our startup incubator was extremely helpful. But not all of the startups that were part of that acceleration programme made the right use of them.
They were not calling them twice a day. Whereas I knew I had that opportunity so I took it, and it was very valuable for us.
So embrace that ability to ask for help, it's one of the most valuable resources you have. You'll be surprised how many people will be happy to help."
Sharing your idea can help you gather valuable feedback that will improve your product.
And most seasoned entrepreneurs are more than happy to give you some of their time – because they've been in your shoes.
Something Wade Eyerly shared his thoughts on when I spoke with him:
"As entrepreneurs, we've all needed so much help to get to where we are, that we understand and most of us are still calling people looking for help!
So when you call entrepreneurs and say: Hey, can I get 20 minutes? I want to bounce an idea off you.
The answer is: Yeah. Okay.
Every single time."
However, many entrepreneurs are scared to share their idea. They worry that the idea may get stolen.
Wade again had some advice on this common concern. He likened a business idea to a newborn baby when we talked about sharing your idea as an entrepreneur:
"One look at your baby and you're like: "He's going to be a Supreme Court Justice." You see every future, all the different things he could be. A pro baseball player, a rocket scientist, whatever it is.
And because you love your baby, you put all your time and effort and energy into it.
And sure, you've seen a lot of other people's babies out there, and they're cute too.
But I bet you've never thought to yourself. "I sure hope I get to raise that one."
And that's the same thing with your business idea, right? You can tell anybody your business idea. You can sit on it for ages and let it marinate because no one will steal it.
At the end of the day, nobody else wants to raise your baby because all the work is yet to be done. And the work is where the money is made!
A hundred people might have the same idea as you. But most likely you're the only person willing to put the work into it to make it succeed. Because the work is the hard bit.
You see it happen a lot. It's like when a first-time founder gives a VC an NDA and asks him to sign it. Every VC goes, "Nah, you can't come to me and ask for help and then tie my hands."
Wade is not the only interviewee who warned me about asking investors for NDAs. Serial entrepreneur and Angel Investor, Antonio Biondi, also spoke about this at length in our conversation:
"For me, if you ask for an NDA the conversation is over. There is a level of trust where you need to be willing to give to people playing this game, as a founder.
Also, as an investor, I look at around five pitches a day. So it's very likely that something you're pitching me has already come across my desk in one form or another, and is bound to again.
If I sign an NDA I'm prevented from investing in a similar company purely because you asked? I'm sorry it makes no sense.
If you can't get a patent then the value isn't in the IP. It's in the go-to-market, growth, expertise, competitive landscape.
And while it's valuable it's not IP so an NDA is useless."
Key Takeaway
Stop worrying about people stealing your idea.
Simply put, a good idea is a great start. But it's nothing unless you put the work in and develop it into a viable business.
Take every chance you get to reach out to people and ask for their feedback and advice. The majority of people who can help you have probably been in your shoes and will take your call.
The different perspectives will help you learn:
Whether or not this idea will work as a business;

What you should be focusing on to make this idea a reality.
And you may even pick up some stakeholders along the way, whether it's investors, advisors, talent, etc.
5. Don't Rush When it Comes to Choosing Co-Founders
Like dealing with investors, finding the right co-founder for your startup is one of the biggest challenges you face as an entrepreneur.
Some of the entrepreneurs I've sat down with would argue that it's the most important decision you will make, like serial entrepreneur Yaron Samid:
"I can't stress this enough; choosing your co-founder is literally the most important decision you will make as a founder.
Most startups fail because of some sort of HR dynamic. The vision might be good, the market might be good but if your team can't execute against it then you're already one foot in the grave.
You should find a co-founder who you trust and feel absolutely confident to go to battle with for the next decade."
When looking for that person to go to battle with you should be looking for an overlap of skills, at least that's the advice from entrepreneur and NY Times Bestselling author Geoff Smart.
When I talked to him about spotting the perfect co-founder he had this to say:
"You should find a co-founder that has a one-third overlap with you in skills and a two thirds complementary skills.
There are hundreds of examples of this where there is a small overlap and a large aspect of complementary skills – take Jobs and Wozniak. Jobs has some basic technical background, but Wozniak was the tech brain. Wozniak had knowledge of promotion and sales and marketing but nowhere near as much as Jobs.
You're experts in different fields but you're able to speak the same language.
Then it's about making sure that values and cultural aspects are consistent between you as well. As well as how hard you're going to work you need to be on the same page about that as well.
But the main thing is to hire for skill complementarity. Do NOT hire someone just like you with the same skills as you, I've never seen that work."
When it comes to finding that perfect person who compliments your skills, they may pop up in the weirdest of places. Something Jan-Phillip experienced first hand:
"I was in Singapore and there was this platform that was essentially Tinder for co-founders.
It was designed to match tech and non-technical founders. I remember there were 70 profiles. 69 of them were completely wrong for me. Then I saw his profile and I thought "He seems reasonably interesting."
So we met for a coffee, it was a three-hour meeting. I instantly knew I could trust the guy.
He'd already developed the technology to build an MVP. But he needed help to commercialise it.
I felt I had the right skill set to do that, so I gave myself two years to see if we could make it work."
Spoiler alert, they made it work. Their company FitSense is now used by some of the largest multinational insurance companies in the world.
And Jan-Phillip is not alone when it comes to finding a co-founder in an unconventional way.
Wade Eyerly stumbled across his perfect fit co-founder on a listserv:
"I had a friend of a friend who posted it on a listserv of our friends saying, Hey, I'm looking for something new.
So I reached out to him and said:
Do you know anything about insurance?
He'd been General Counsel to the Governor of Illinois, he goes:
Sure. We had a massive insurance budget and I handled all the legal work for the state.
If you had handed me Aladdin's lamp and said make a wish for your perfect co-founder I couldn't have guessed that he existed.
Not only did he have all the skills I needed. Skill sets so disparate that I couldn't have imagined I could find them in one human.
Moreover, we're about a year apart in age. He has four kids. I have three. Our kids are the same age. We're at the same stage of life.
So when I'm like: "Hey. I've got a little league game. Can you cover the meeting with this college?"
He's like: "Yeah, I got it. But remember tomorrow I've got ballet, ok?"
So that dynamic is really great. I think our worldviews are really similar. A lot of our life experiences are similar. I just could not have guessed that someone existed like that.
He flew out to meet me and we worked together a little. Then we worked together a lot and it was very clear. He's the co-founder and we restructured the company and made it happen."
Key Takeaway
Don't rush finding your co-founder. Take the time to look for someone who you can trust long term.
More than that, find someone who has complementary skills to you. If you excel at product more than marketing, look for someone who has a notion of product, but excels at marketing and sales.
Finally, make sure you find someone who has similar values to you and is ready to put in the same level of work as you to get the job done.
Related: 8 Traits to Consider if You Want to Find the Perfect Co-Founder
6. Do Whatever it Takes to Drive Your Business to Its Next Milestone
Entrepreneurship takes hard work. You need to be ready to put in the hours to get the job done.
A big part of that is adapting your role for the work that needs to get done at that moment.
Take Illit Geller as an example here.
In our conversation, she talked about the many hats she wore when she launched her startups.
"Teamwork and collaboration is the name of the game – Initially you're a small team that does everything, just like any startup.
If I saw that my development team was working really hard on the next release and there wasn't much I could do to help, then I would bake them cakes and bring them coffee – the point is there is always a way to help out!
I did everything in the early days, even though my title was CEO.
I did quality assurance, product specs, I was looking at the design, I was raising money, hiring people.
You name it I did it all

.
And I'm not saying this in a negative way. I love my work and I have a lot of passion. I wouldn't call myself a workaholic but I work hard for the success of the company."
Sean Yu also spoke of the importance of doing whatever it takes:
"I honestly think that's what the "CEO" character is in an early startup. The guy who's a bit of a jack of all trades and does anything needed to get the job done. Whether it's marketing, sales, project management, being the janitor – whatever it is.
Before launch I was coding, doing PR and recruiting, talking to investors the list goes on.
Then we launched – and my focus changed.
Once we started getting customers I was kicked out of the development team! We had hired more developers and we agreed my time was much better spent elsewhere.
That's when I started looking at business strategy, talking to potential partners and BizDev."
Key Takeaway
You need to get stuck in and do whatever it takes to drive your business to its next milestone.
However, a big part of that is knowing when to step back and focus on the aspects of the business where you're most effective.
7. Don't Underestimate the Importance of Product
The Lean Methodology states that you should build an MVP and get to market as quickly as possible to gather feedback and iterate – and we believe in that wholeheartedly.
But that doesn't mean entrepreneurs can just slap something together and simply throw it out there.
The market is much more discerning than it was 10 years ago when it comes to the products they use.
If you don't make sure you're solving a real problem while presenting the user with an enjoyable experience, you're gonna be in trouble.
Fintech entrepreneur Christian Nothacker summed this up perfectly in our recent conversation:
"You can have a great sales team, great marketing, great conversion, etc. But if your product is no good your clients will eventually go somewhere else.
A CPO or dedicated Product Expert can be great when it comes to bridging the business vision and technology.
It's very important to know where the product is today and the direction in which it's heading. If you don't know these things, it's extremely difficult to keep your product relevant and up to date."
I was fortunate enough to also cover this topic with CPO and Product Expert Joe Procopio:
"Your core product has to give the customer a quick understanding of why they need your product. And it has to do this flawlessly. Remember your product won't work if your customers can't see any value.
Focus on the immediate value or you'll fail."
Key Takeaway
The first version of your product has to do two things from the get-go:
Solve a real problem;

Provide an enjoyable experience while solving it.
Make sure you either have this competence in-house or reach out to a product expert to help you.
Related: The Process Behind Successful Product Development
8. Listen to Your Market & Don't Hesitate to Pivot
Successful entrepreneurs fall in love with the problem they're solving, not their idea.
Well, actually that's not true. We always fall in love with our ideas, but you can't let that cloud your judgement.
Usually, there are many ways to solve a problem. The one you start with is not always the best.
The ability to let go and iterate quickly – even when that forces you to some tough decisions – is crucial for any startup.
Take Christian Notacker's story as an example:
"We quickly decided our model wasn't a very feasible business plan, so we took the decision to pivot.
Even though we pivoted from the lending side to a "digital factory" for banks it's still following that same concept. The vision has remained the same, what's changed is the application and how we implement that vision."
Or Yaron Samid's:
"Early on, we realised our Cost per Acquisition (CPA) was going to be too high; so we pivoted to a B2B model. We tried to sell the technology to the banks.
However, the sales cycle for banks is very very long. It's painful. The kind of pain I wouldn't wish on anybody.
Simply, we were not set up to just sit there and wait for the banks to deploy.
So, after two years of investing in a B2B marketing and sales team, with pilots in major banks, we made one of the hardest decisions we had to make. To pivot back to a consumer app.
This meant letting go of some amazing talent we had brought in to sell to banks. They just weren't the right fit for a consumer business model. It was heartbreaking.
We completely redesigned the product and built a personal finance app as opposed to a "set & forget" security app."
Key Takeaway
Both Yaron & Christian could've kept going and tried to force their solution on the market.
Instead, they took stock and focused on fixing what wasn't working by pivoting the business.
In both cases, the pivot resulted in companies worth millions of dollars.
9. Surround Yourself With the Right Team, Trust Them & Delegate
One thing I've learnt from my conversations with entrepreneurs is that to be successful you have to surround yourself with the right people.
And when it comes to the team, you don't have time to micro-manage, something Wade Eyerly faced first-hand when seeking out his founding team:
"I decided early on that I'm going to hire adults and trust them to be adults. I'm not the guy who asks you to be my accountant and then double-checks all your math.
That approach of not getting in the way of the people you bring into your team has led to tremendous dividends over time"
These conversations have also reminded me of the importance of delegation, like this nugget of wisdom from Jan-Phillip Kruip:
"To put it bluntly: You simply will not have the bandwidth to control every aspect of your startup, you'll burn out. The sooner you learn to delegate, the better.
Delegating has this wonderful side effect:
"The moment you trust someone they will take ownership of what they're doing. Before you know it you can step away and watch this machine that you've created."
But to trust them, you first have to find the right people for the job, something Geoff Smart knows a thing or two about:
"As boring as it sounds, you should find out:
How they accomplished what they did
What their bosses would say their strengths and weaknesses are
That kind of data is very useful because it happened in the past and you can pair that with reference checks to verify what they said. Those two things give you 90% accuracy when hiring.
If a candidate talks about every accomplishment, low point, their education, their work experience, etc. it paints a relatively clear picture as to how persistent they are.
I can even identify creativity. You can tell from the way someone describes their accomplishments. Imagine a marketing candidate who's telling you they increased brand awareness by 28%.
If you ask them how they did it and they reply, we bought ads – not very creative.
But if they tell you: "We came up with a whole new way to access a whole different market and it boosted our sales by 400% and we won awards." – That's a creative candidate."
Serial entrepreneur Yaron Samid also has some useful insights on this all-important topic:
"When hiring for a startup, I would optimise on intelligence and learning fast on the job over fancy degrees from fancy universities.
In the startup world, you need people who are street smart, creative, agile, adaptable.
If you're building a consumer product and you suddenly decide to pivot to a B2B model you need to have software engineers who can pivot with you."
Key Takeaway
To increase your chances of entrepreneurial success you need to find the right people to execute your vision.
They need to be creative, agile and have expertise in what you're hiring for. But more than that you need to be able to trust them.
If you're able to trust them you can delegate with ease and know the job will get done.
Related: 4 Steps to Select The Right Technical Partner To Help You Build a Startup
Wrapping Up
While none of these lessons will guarantee success, they do show a trend among successful entrepreneurs.
Those who find success tend to:
Solve problems instead of looking for ideas

Have a genuine curiosity about the world around them

Form relationships with investors and other stakeholders before they need them

Share their ideas and gather as much feedback as possible

Take the time to pick a co-founder who complements their skills (and aren't their best friends)

Work hard and not be afraid to do whatever is needed to push their business forward

Continuously look at their product from the user standpoint

Know when it's time to pivot the business if the market isn't right

Ensure they surround themselves with trustworthy professionals and delegate to them without hesitation

Ask for help from other entrepreneurs who have been in their shoes.
I hope these lessons have provided you with some valuable insights that you can implement in your day-to-day work. They have certainly helped me.
Thanks for reading.
Rui is a partner and CMO at Altar.io. He's been dedicated to B2B marketing for his entire professional career. After spending eight years honing his craft at Portugal's first B2B marketing agency, he joined Altar, where he leads both the marketing and sales department under the same umbrella.
His current focus is on business strategy, getting to know Altar's customers and occasional early-stage strategy discussions with the entrepreneurs we work with.