AI System To Transform Complex Regulations Into Easy-To-Use Digital Compliance Rules
Apiax is a Swiss Company that operates in the Regulation Technology market and serves major Banks an API to seamlessly adapt to the always changing financial regulations.
See Case Study
ATK is the world's first platform to compare professional audio gear in a fully immersive, interactive and unbiased way. With Audio Test Kitchen, audio engineers and record producers can skip the hype and directly compare the sound of different audio gear.
See Case Study
Social Media Community for Fans
Fave is a fandom centric community with highly engaging content where fans can create deeper and lasting connections. The vision to nurture and grow the community is centred on rewarding positive and meaningful engagement with points that can be redeemed for discounts and exclusive experiences.
See Case Study
Advanced, efficient and streamlined fixed income data and credit analytics for finance professionals
Synch is a single, curated ecosystem for bond professionals to source and analyse bonds with relevant, reliable and up-to-date data.
See Case Study
Peer-to-Peer Knowledge-Sharing Platform
Ovvio is a peer-to-peer marketplace that allows real-time relevant knowledge and wisdom sharing. In Ovvio whenever someone has a question they will have an on-demand expert ready to reply.
See Case Study
Saas Platform Leveraging The Open Banking Framework To Enable Better Audit Quality
Audapio is a Saas leveraging the open banking framework to enable better audit quality. It is a 100% digital solution with on demand and secure access to all bank statements with a 3rd party evidence. With the help of an algorithm, 100% of the population can be audited in a portion of the time and with much less space for error.
EnterpriseBot Rapid is an enterprise-grade drag and drop API integration builder. It's like Zapier on steroids for big firms and allows analysts to integrate third-party platforms seamlessly.
See Case Study
Fee And Commission, Revenue And Expense Lifecycle Management Software
Quartal Financial Solutions is a market-leading provider of award-winning fee and commission management, revenue and expense lifecycle management software for the financial and insurance industry.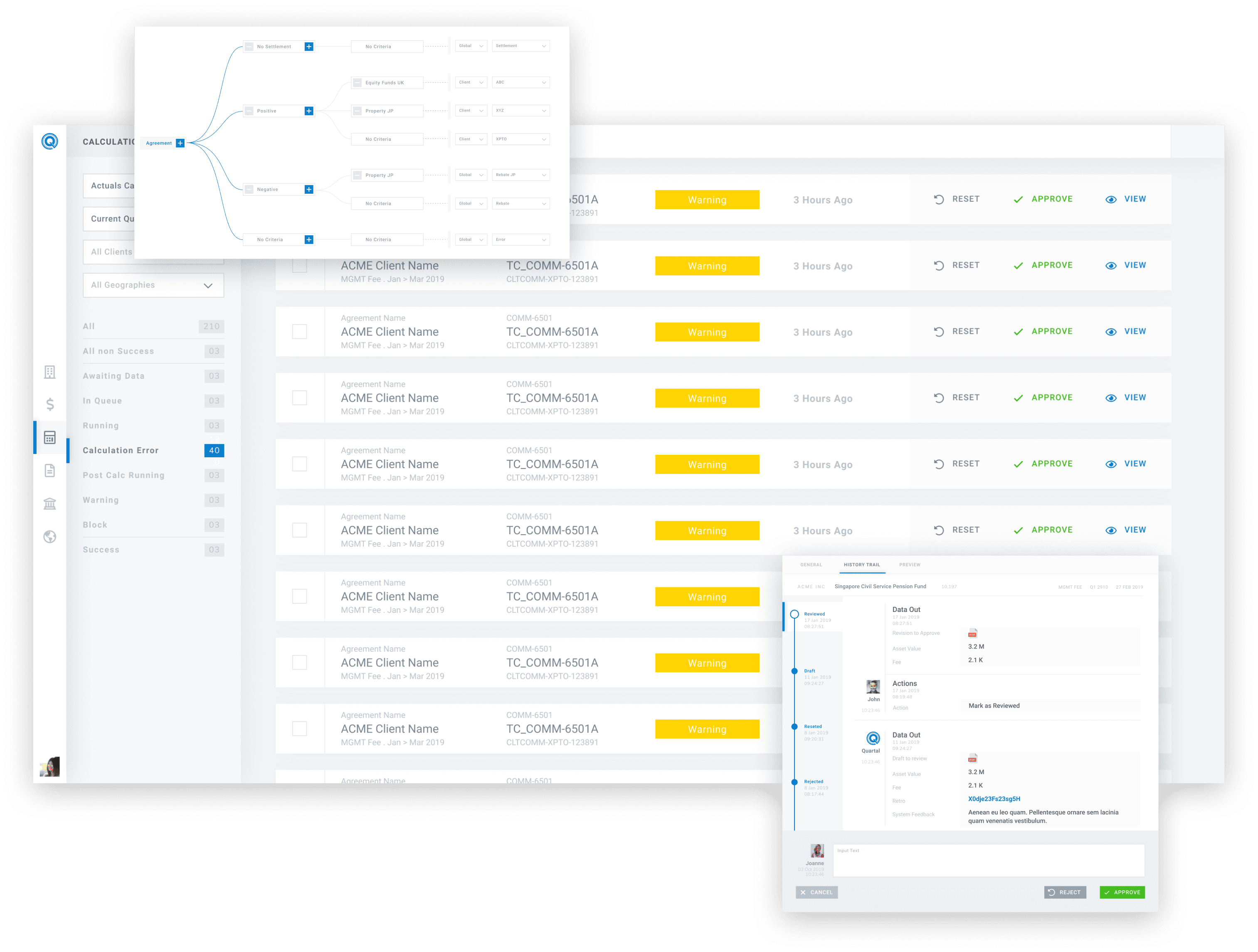 Marketing Automation AI Tool
Hutsi is a marketing automation AI platform that allows companies to work on and deliver online and offline cross-channel campaigns seamlessly to thousands of customers. It uses customer interaction information to constantly adapt campaigns in real-time to each customer.
Credit Management Platform For Financial Institutions
The platform, developed in collaboration with AlixPartners, aims to offer a real-time comprehensive view over the global credit exposure of a financial institution.
Real Estate Intelligence Cloud
REIC (Real Estate Intelligence Cloud), developed in collaboration with AlixPartners, aims to assess the fair forward-looking value of real estate developments and the fair credit value of real estate developers – and to suggest underwriting overrides when lending to these counterparts.
See Case Study
A Web Application That Helps People Create Home Designs
Space Feeling is a digital service provider that offers a modern, intelligent application that predicts all the possibilities, ensuring a perfectly tailored home design.
Real Estate Intelligence Cloud
Synapse Credit is a fintech tool developed in partnership with AlixPartners that allows financial institutions to assess the credit scoring of offline retailers.
See Case Study
Credit Scoring For Brick And Mortars
Teezler is an online beauty community where users can ask and get advice and tips on any beauty topics. Users share their beauty experiences and opinions as they earn points to score free and surprise samples!
DISTRESSED ASSETS PRICING PLATFORM
Platform To Perform Forward Looking Analysis Of Real Estate-Backed Loans
The platform, developed in collaboration with AlixPartners, aims to assess the fair forward-looking value of UTPs and NPLs portfolios (when these are backed by real estate assets) through an AI layer.
World's Only Platform For Theaters Co-Productions
Opera Co-Pro is a global service that connects performing arts companies to co-produce and trade opera productions.
Custom Dedicated Development Team For Swiss Data Science Company
Datahouse carries out work with a broad set of technologies, and its team delivers complex projects in the intersection of Data, Application Development and User Experience.
See Case Study