RegTech for Financial Institutions
Apiax is a regtech company that builds a lean yet comprehensive solution to transform Banking's complex regulatory landscape into digital and centralized rules and to manage the full lifecycle of digital regulations.
Founder & CEO, Philip Schoch
Philip started his journey into tech over two decades ago as a software developer.
In 2004, he moved into financial services, driving financial transformation with some of the most prominent financial institutions in the world, like UBS Financial Services & Appway, part of FNZ – one of the world's largest growth platforms.
This deep expertise and experience positioned him perfectly to found Apiax in 2017.
Since launch, Apiax has gone from strength to strength, raising millions of dollars and winning a number of startup awards in the process, such as The Early Stage Startup of the Year and The Digital Finance Innovation Award.
Financial institutions face mounting pressure from regulators.
The ever-growing list of industry regulations is met with inconsistent interpretation and implementation across jurisdictions. This wave of regulatory challenges leads to surging costs, increased business risks and a deceleration in innovation.

A tech-enabled approach to digest compliance data
Apiax breaks down the regulation (financial, fiscal, data protection) into machine-readable compliance rules that can be implemented through an API into existing technology stacks, offering advice to front office roles inside banks.

An award-winning startup that's gone on to raise millions
Since working with us, Apiax has gone on to win a range of startup awards, raised over eight million dollars and increased their team to over 75 people across five offices worldwide

Key Challenges We Faced on the Product and Tech Sides
Creating Value for All Personas
Different stakeholders have to interact with different modules of the app:
Lawyers and compliance specialists have to interpret the regulation and translate it into binary rules.
Compliance specialists inside the institutions should be able to override the interpretation whenever this clashes with internal procedures or values.
Front office bankers that consume the digital rules and get advice on how to proceed regarding a certain deal.
Complex UX Scenario
Presence of a set of constraints and rules that have a great impact on the UX. Therefore, we had to find a natural flux that does not require extensive guidance for the users of the application.
Step One
Product Scope
We focused on the business vision and created a comprehensive brief for the project by gathering all the research on the market, competitor benchmarks and any other necessary information. Then we met with the client in an immersive session to craft a value proposition and set the main assumptions to prove. Finally, we created the ultimate list of user stories and features necessary to prove those main assumptions within the MVP.

Step Two
Product Rationale and Tech Scope
After an immersive session with all the stakeholders, we had all the information we needed to create the ultimate list of User Stories and features necessary to prove the main assumptions in a Proof of Concept (POC). Our experts in Product, UX/UI and Tech Architecture focused on finding the answers to all of the questions raised throughout the scope preparation. On the tech side we elaborated a memorandum tackling our suggested approaches for tech stack selection, database technology and orchestration. Together with Bocconi University and AlixPartners we started defining the useful datasets and the algorithm behind the lending decisions.
Step Three
Clickable Prototype
We developed a non-functional prototype to simulate user interaction. The experience of using the clickable prototype was very much like the final product itself, this was the adequate phase to test the information architecture, the UX and most importantly to present all involved counterparts a concrete outcome.
Step Four
Final UX/UI Development
With the decisions closed in the previous steps, we went on developing the product through agile cycles.
Download the case study to read it later.
Get immediate and easy access to clear yes-or-no answers to your most pressing regulatory questions in wealth management, asset management and data protection. Get coverage of up to 90 jurisdictions and access the work of leading content providers that keep their regulatory content up-to-date and verified.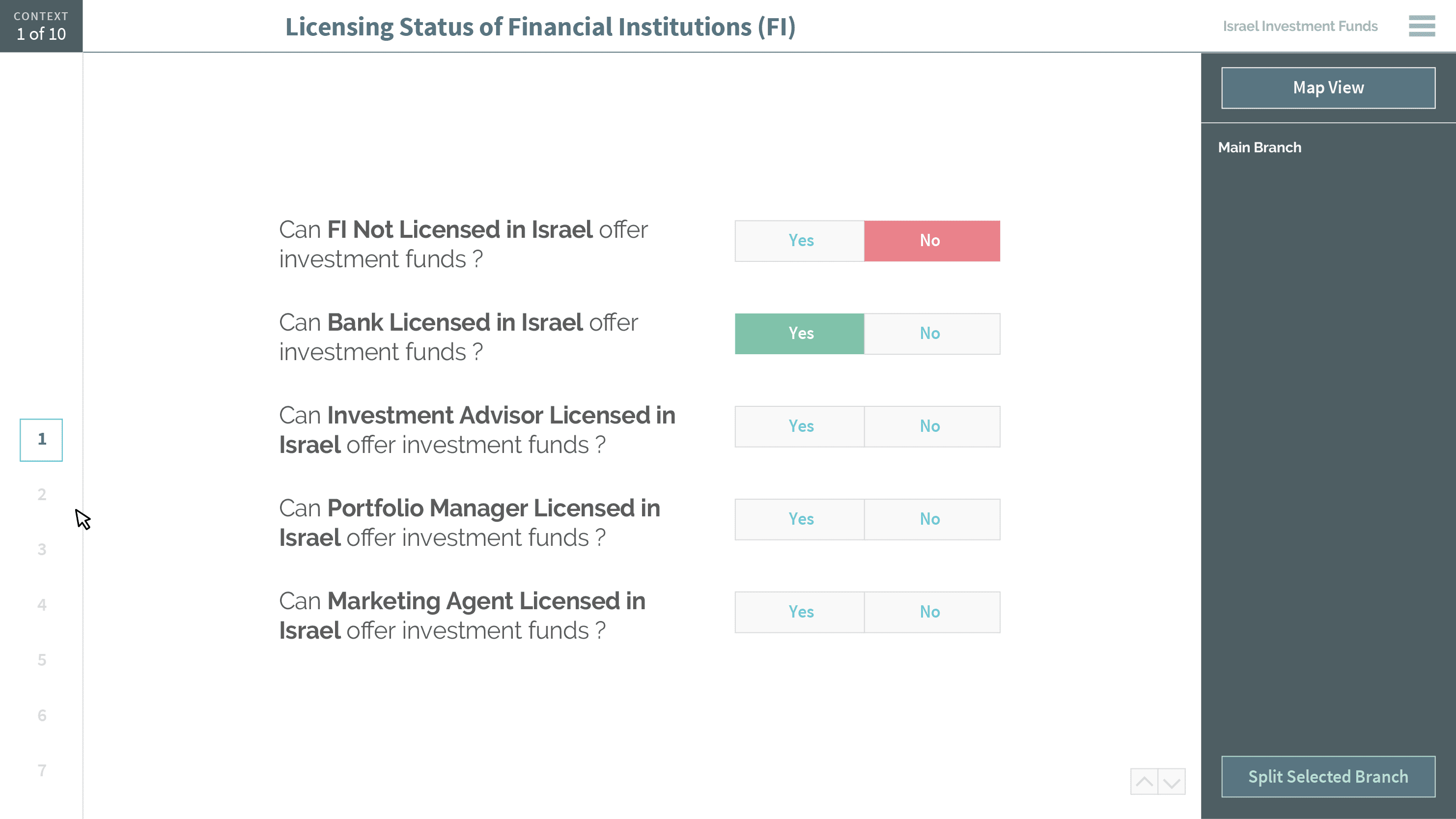 Digitalise your own regulatory expertise and customise it to your liking and risk appetite. Make use of our no-code digitalisation environment that allows you to turn your expertise into digital compliance rules. Making this knowledge easily accessible across even the most complicated organisations.
Work with colleagues and external specialists through Apiax's collaboration module. Empower your compliance team with everything they need to collaborate on rule transformation and adaptation. Enabling them to work seamlessly with external regulatory specialists, including Apiax's premium content partners.
Monitor the usage of regulatory data and understand risk patterns. The continuous use of Apiax's technology creates unique insights. The analytics module gives risk experts and executives easy access to this data and allows them to define and understand regulatory patterns and suspicious behaviour.
Make use of machine-readable compliance rules in your existing environments. Low-code integration options such as exports and browser-based applications allow everyone to benefit from the latest developments in regulatory technology. Our API gives even more opportunities to tech-savvy organisations, offering easy implementation into existing technology stacks.
We are very happy to work with Altar.io. The collaboration goes far beyond a standard IT service: with Altar.io we have a sparring partner that challenges us in our product decisions and is truly passionate about the results developed. The level of professionalism and dedication is exceptional in this industry and we are eager to strengthen our collaboration in the future.
Philip Schoch – Apiax, Co-Founder
Take the Price Simulator for a Spin
Play with our pricing simulator and try to understand your project size.
Start building your product
Book a call with a product expert to evaluate your project.
Talk to us and get your project moving!
This is exactly what will happen after you submit your form:
We will respond to you within 24 hours.
We'll sign an NDA if requested.
You'll be talking to product and tech experts (no account managers).